Services

Commuter Link 220 FAQ
Commuter Link 220 FAQ

Commuter Link 220 operates five days a week, Monday through Friday.  Service does NOT operate on New Year's Day, Memorial Day, Independence Day, Labor Day, Thanksgiving and Christmas Day. Service begins at Westfield Palm Desert on Town Center Way at Hahn.
Designated Park and Ride areas for Commuter Link 220 are available at Town Center Way at Hahn and the SunLine Transit Hub on Varner Road in Thousand Palms.
The first trip of the day for Lines 32 & 111 will arrive at Town Center Way and Hahn in time to connect with the second Commuter Link 220 trip. The service offers connections with Riverside Transit Agency's (RTA) bus routes and Metrolink trains traveling to Los Angeles or Orange County.
Using SunLine services has never been easier.  Use Google Transit to plan your trip today.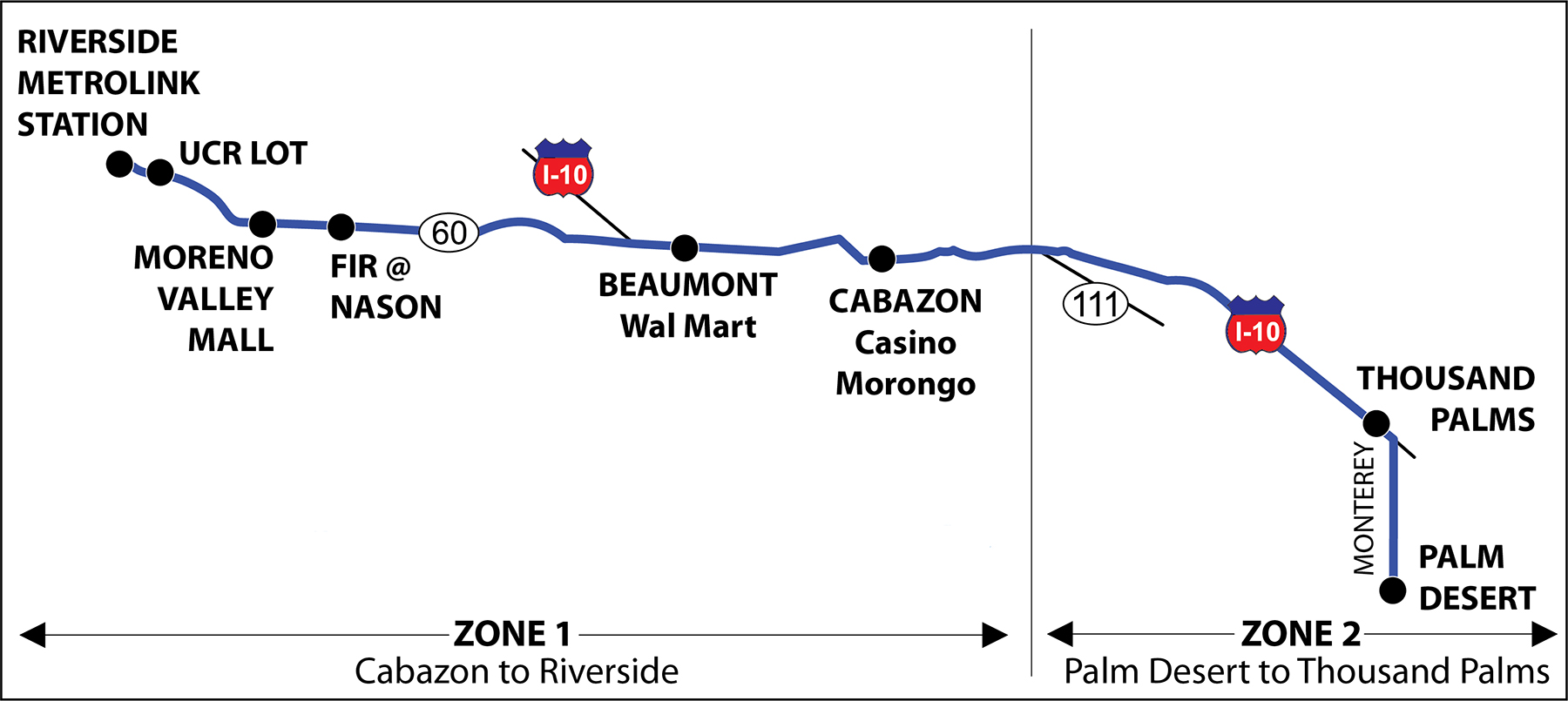 Commuter Link 220 fares are by zones. (Fares & Transfers)  Cash fares can be paid into the farebox.  A Day Pass purchased from the farebox must be used the same day. 
A Commuter Link 220 Day Pass and a 30-Day Pass (zones 1 & 2 only) can be purchased online or directly from SunLine Transit Agency in Thousand Palms. Pass Outlets do NOT sell Commuter Link 220 passes.  (No Ticket Vending Machine (TVM) sales).
RTA and their pass outlets sell the Commuter Link 220 30-Day Pass for zone 1.  There is no 30-Day Pass for zone 2.  For a list of RTA pass outlets log on to riversidetransit.com
The following passes are valid for use between Riverside and Cabazon (Zone 1) on Commuter Link 220:  City of Riverside Employee ID Pass and Metrolink ticket or pass.  An additional $3.00 fare can be paid with these passes for travel to/from Zone 2 (Palm Desert / Thousand Palms).
For your convenience buses are equipped with comfortable, reclining coach seating, luggage/bike racks and complimentary Wi-Fi.  All SunLine buses are air conditioned, low floor and wheelchair accessible. Closed drink containers may be brought onboard this service (no alcohol).
Commuter Courtesy
Limit cell phone use and speak quietly.
Keep electronic device sounds to a personal volume level or use headphones.
Use luggage racks. Do not leave luggage in the aisle.
Do not spray perfume or other airborne chemicals
Sit back and enjoy a stress-free commute to work, school, job interviews, shopping or visiting family and friends.  Text, tweet, read, study, relax or just take a nap.  Enjoy the Ride!
Fares & Passes
Route and service adjustments have been made to improve efficiency and effectiveness.
Service Alerts
Route and service adjustments have been made to improve efficiency and effectiveness.