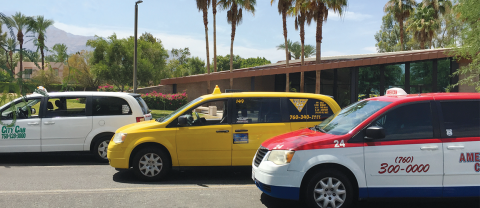 Rider Alerts
Rider Alert ROUTES 1, 6 & 8:
EFFECTIVE SUNDAY, MAY 1, 8, 15, 22 & 29, 2022
1:00PM TO 11:00PM
Due to the Suavecito Sunday's Car Show event at Coachella Veterans Memorial Park, 4th Street will be closed between Orchard and Vine. 
The Routes 1, 6 and 8 will be on detour.
View Alert
Rider Alert Routes 1, 2, & 4:
ROUTES 1, 2 & 4 EFFECTIVE EVERY THURSDAY NIGHT FROM 5:00PM TO 11:00PM
Due to the Palm Springs VillageFest every Thursday night, Palm Canyon is closed between Amado and Baristo. Routes 1, 2 & 4 will be on detour. Please see map attached for available bus stops and detour.
RUTAS 1, 2 & 4 EN EFECTO TODOS LOS JUEVES POR LA NOCHE DE 5:00PM A 11:00PM
Debido al Palm Springs VillageFest todos los jueves por la noche, Palm Canyon estará cerrada entre Amado y Baristo. Las Rutas 1, 2 & 4 estarán en desvió. Mire el mapa de adjunto para las paradas disponibles y el desvió.
View Alert
View All Alerts
Clean & Alternative Fuels Fleet
SunLine Transit Agency has been at the cutting edge of alternative fuels technology for more than two decades. Fuel Cell technology launched all over the world was developed, tested, and brought to commercialization by SunLine Transit Agency. We are extremely proud to be a part of history and the future of this technology platform.