Ride with Confidence
SunLine Transit Agency has remained in service throughout the COVID-19 pandemic. The Agency has been proud to provide public transportation for all of our Coachella Valley residents who needed to make essential trips.
SunLine has earned the Health & Safety Commitment (HSC) seal from the American Public Transportation Association. This means we are fulfilling the highest industry commitments for keeping transit safe during COVID-19 by wearing masks, cleaning and disinfecting our vehicles and testing our employees. We ask you to help out by wearing a mask and maintaining social distancing while riding the bus.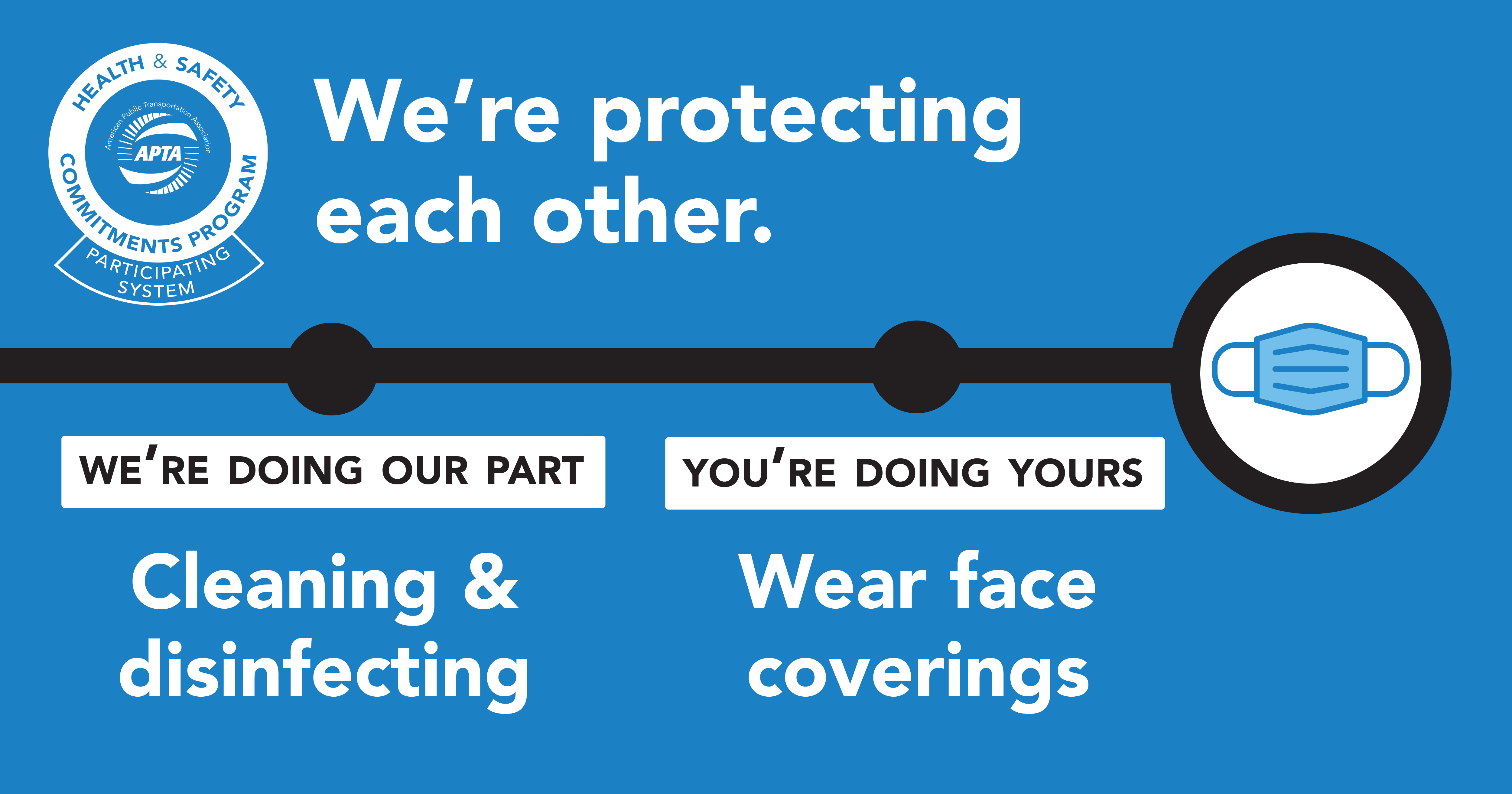 As the State of California, and the nation, continue to respond to the COVID-19 situation, SunLine introduces our "Ride with Confidence" mission. Our "Ride with Confidence" mission reinforces our dedication to providing a healthy and sanitary environment by following recommended and required procedures of the local public health authorities and the Center for Disease Control and Prevention (CDC). SunLine has a commitment to delivering clean transportation, both inside and outside. 
CLEAN INSIDE
At SunLine, safety is our foundational value. As the world continues to change around us, the work we must do to protect your safety evolves and expands. Here is how we protect our riders,including enhanced cleaning tech, and how you can contribute from giving fellow riders space to wearing face masks.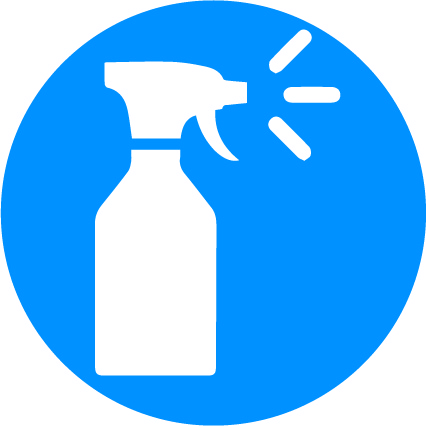 ENHANCED CLEANING
SunLine has adopted recommendations from the CDC on enhanced cleaning, sanitizing and disinfecting procedures. The Agency went beyond those recommendations by implementing a second stage disinfectant on our buses, and all other vehicles, bus stops, and at the locations where our employees work.
Each vehicle receives daily cleanings, which includes disinfecting high touch surfaces (stanchions, hand holds, and fareboxes).
All buses and paratransit vehicles are fogged nightly with disinfectant applied through the Heating, Ventilation and Air Conditioning (HVAC) system.
We updated our nightly deep bus cleaning routine to include disinfecting high touchpoint surfaces such as doors, seats and handrails.
We added a hand sanitizer station in all our fixed route buses and paratransit vehicles.
We pressure wash the entire bus stop/shelter and then the area is sprayed with disinfectant using a hand pump sprayer.
We have installed transparent safety partitions on all buses and paratransit vehicles. This provides a critical defense barrier between operators and passengers using large, heavy-duty safety glass.
And every day, we disinfect the locations where our essential employees work, including offices, desks, dispatch centers, and restrooms at all SunLine facility locations.
BE GREEN, STAY CLEAN
GETTING ONBOARD
SunLine introduced service levels and moved to a Sunday schedule, which allows the Agency to have buses available on routes during peak periods to help maintain social distancing. When riding our buses, please follow guidelines to reduce the possibilities of infection transmission, flatten the curve, and protect the most at-risk members of our communities. For example:
Adapt your commute time to off-peak periods when buses might be less busy if you can.
As safety is a shared responsibility and in keeping with state law, riders are required to wear a face mask or covering at bus stops and onboard buses. We are all in this together, so if you forget to bring one, the operator may be able to provide you one (limited availability).
Please stay at least six feet apart from others whenever possible.
Avoid grabbing handrails unless it is for your stability and safety.
Give your fellow riders plenty of space to enter and exit the bus.
Use our onboard hand sanitizer, and wash your hands as soon as you reach your destination.
Currently, riders are directed to use the rear door for boarding and alighting and fare collection has temporarily been suspended. For the safety of both passengers and operators, protective barriers will soon be installed. At that time, we will resume fare collection. We encourage riders to utilize contactless payment by purchasing bus passes through Token Transit's mobile app.
CLEAN OUTSIDE
Zero-Emission Technology
SunLine Transit Agency has been at the cutting edge of alternative fuels technology for more than two decades. What does this mean? Simply put, SunLine places a conscious effort into the buses that we develop, buy, and place on the streets for service. The Agency is a leader in zero-emission technology and every zero-emission bus results in immediate benefits to our community.
Unlike buses that run of fossil fuels, SunLine's fleet of buses are comprised of hydrogen electric fuel cell and battery electric. Both of these alternative fuel sources create zero emissions which means overall cleaner air. Imagine a world where we only use clean, renewable energy to provide power — this is the future that SunLine is helping to create through our transportation system.
Planning Your Next Trip
If you need to take an essential trip with us, Ride with Confidence, knowing that we are delivering clean transit inside and outside.

---
Thank you for riding with us – with confidence!
Expand All
Collapse All
FAQ – CLEANING
What is SunLine doing to keep buses, paratransit vehicles, and bus stops clean?
SunLine implemented enhanced cleaning protocols at the beginning of the COVID-19 outbreak to help protect against the spread of the virus. Enhanced cleaning protocols include:
All buses and paratransit vehicles are fogged nightly with disinfectant applied through the Heating, Ventilation and Air Conditioning (HVAC) system. The deep cleaning process also includes touchpoint cleaning and wiping with EPA-approved disinfectant.

Throughout the day, paratransit vehicles brought back to the SunLine facility are cleaned and disinfected before being returned to service.

SunLine's Stops & Zones employees clean bus stops throughout the service network. We pressure wash the entire bus stop/shelter and then the area is sprayed with disinfectant using a hand pump sprayer.
What type of disinfectants are being used?
SunLine is using OdoBan, a hospital grade cleaning product, that is EPA approved against the spread of COVID-19. This disinfectant is not harmful to humans or animals and follows the latest in industry and healthcare standards.
Why did SunLine add hand sanitizing stations to its buses and paratransit vehicles?
SunLine added hand sanitizing stations on its buses and paratransit vehicles to limit spread of COVID-19.
Does SunLine require to use hand sanitizer every time they ride?
No, however, health officials recommend people use hand sanitizer when they are unable to wash their hands with soap and water. So, SunLine made hand sanitizer readily available for those who want to use it and do not have their own.
What should I do if the hand sanitizer dispensers are empty? To whom should I report it?
You can report it to the bus operator or call SunLine Customer Service at 760-343-3451
FAQ – SOCIAL DISTANCING
Are face masks/coverings required on board SunLine buses and paratransit vehicles?
Yes, masks are required of riders onboard buses as well as paratransit vehicles. SunLine expects riders to bring their own mask when riding the bus, however, if you do not have a mask or face covering the SunLine operator may be able to provide you one (limited availability). SunLine operators and other staff working on our buses wear masks for the safety of our riders and their own.
Why is SunLine telling riders to wear a mask?
In response to the rapidly rising number of COVID-19 cases, the State of California has mandated everyone to wear a face covering when leaving home, including essential workers. Face coverings can be bandanas, scarves, neck gaiters or other clothing that does not have visible holes. This extends to our customers riding onboard SunLine buses (fixed route and paratransit).
Do people have to wear face masks at the bus stops?
The CDC and the State of California recommends wearing cloth face coverings in public settings where other social distancing measures are difficult to maintain, including waiting for transit. So, we do require riders to wear a face mask while at the bus stop.
What is SunLine doing about Social Distancing?
Social distancing is critical to helping prevent the spread of COVID-19. SunLine has continued to monitor daily boarding's with the goal to keep ridership at a maintainable level toensure room for social distancing. Riders can use the myStop® app, to check ridership levels on a bus. The learn more about the SunBus Tracker tool visit sunline.org/sunbus-tracker-tutorials
Will SunLine increase service to allow social distancing?
The Level 3 Sunday schedule will continue for the time being. However, we are closely monitoring ridership so that we can expand our service to ensure appropriate social distancing opportunities.
FAQ – ZERO EMISSION PROGRAM
How many zero emission buses does SunLine have as part of the fleet?
Our current fixed route fleet has 16 hydrogen electric fuel cell buses and 4 all battery electric fuel cell buses.
What type of infrastructure does SunLine have to support this fleet composition?
SunLine has the largest producing hydrogen fueling station in the nation for transportation at our Thousand Palms facility.
What powers a hydrogen electric fuel cell bus?
Two of the earth's most basic components – oxygen and hydrogen. A fuel cell combines hydrogen and oxygen to produce electricity, heat and water.
How are hydrogen electric fuel cell buses and battery electric buses considered zero emission and therefore good for air quality?
Buses powered by fossil fuels emit air pollutants that harm our environment. Both hydrogen electric and all battery electric are zero-emission vehicles. When a hydrogen electric fuel cell bus operates it emits only water. This means cleaner air.
Fares & Passes
Route and service adjustments have been made to improve efficiency and effectiveness.
Service Alerts
Route and service adjustments have been made to improve efficiency and effectiveness.