Programs

SunDial Paratransit Service
SunDial Paratransit Service
Coronavirus update: SunLine Transit Agency emphasizes that customers must not use SunDial to travel to health-care appointments if they are showing signs of illness for the safety of our employees and other passengers. If you are ill, please call your healthcare provider and make transportation arrangements that do not involve public transportation.
---
What is SunDial?
SunDial is a valley wide, origin-to-destination paratransit service designed to meet the requirements of the Americans with Disabilities Act (ADA). The purpose is to provide next day public transportation service for persons who are unable to use regular SunLine service. SunDial service is available within 3/4 of a mile on either side of any local SunLine route (not including Commuter Link 220 & Line 95). Please call Customer Service at 760-343-3451 to find out if your destination is within the pick-up and drop-off zones.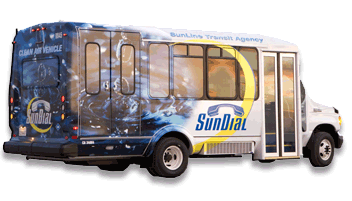 Here are several useful files in PDF format for SunDial.

SunDial Rider's Guide May 2018

NEW SunDial Customer Certification Application Part A

 NEW Health Care Provider Certification Part B
Who Can Ride SunDial?
All persons requesting ADA certification must complete an application and provide the necessary documentation to determine eligibility. After the application is submitted, the applicant will be contacted to schedule an in-person assessment, transportation will be provided at no cost to the applicant. The application is not complete until the applicant has participated in all required assessments and provided all requested information to SunLine Transit Agency. SunLine will make the eligibility determination within 21 calendar days of receiving all the required information and a written notice will be sent to the applicant. If it takes longer, and until an eligibility determination is made, SunLine will provide the applicant with temporary ADA Paratransit service.

Applications are available at the SunLine Transit Agency office in Thousand Palms, via mail by calling Customer Service at 760-343-3451 or NEW SunDial Customer Certification Application Part A NEW. Eligibility is not based solely on physical disability. Consideration is given to whether and how the disability impairs an individual's mobility. Your ADA card may indicate you have CONDITIONAL, UNCONDITIONAL or TEMPORARY eligibility.
Conditional means you can use SunDial only under specific conditions.
Unconditional means you have unlimited access to SunDial. This does not restrict you from using SunLine.  ADA qualification also allows you to pay half-fare on SunLine buses.

Temporary means you are eligible for SunDial service on a temporary basis.
Companions
Travel by SunDial is offered on a space availability basis, you must always inform the Reservationist if your reservation is for more than one person.  When space is available, clients may travel with up to three companions who will all be charged the applicable fare.
SunDial clients who have acknowledged the need for a Personal Care Attendant during the ADA certification process may bring one attendant with them free of charge.
Children 4 years old or younger that are traveling with eligible clients are not charged a fare. If a child of 5 years old or younger is traveling on SunDial as a client, an adult attendant must accompany the child at all times for the applicable fare. It is the responsibility of the parent or companion to secure children in safety seats as required by California law enforcement. SunDial does not provide child safety seats.
Service Animals and Pets
Always inform the SunDial Reservationist if you are traveling with a service animal.  Non-service animals may travel on SunDial if they are in a properly secured cage or container and do not jeopardize the health or safety of other clients or the driver.
Reservation Policy
Call SunDial Reservations at 866-311-7433. Hours are seven days a week between 8 a.m. and 5 p.m. Be prepared to provide the Reservationist with the following information:
Your first and last name
Your ADA ID number
Your home address
Your home and cell phone number
Your exact pick-up location (example: 123 Your Street)
A telephone number at your pick-up location
Your exact drop-off location (example: 456 Destination Street)
Your requested pick-up time
Your personal mobility device and type (wheelchair, scooter, etc.)
The number of clients traveling with you (if any)
Once your reservation is made, request a confirmation number and the Reservationist's name.
If you are on hold, do not hang up. Calls are answered in the order they are received.
Visit the Download Apps page of our site where you can find out how to download the newest version of Adobe Reader.
Fares & Passes
Route and service adjustments have been made to improve efficiency and effectiveness.
Service Alerts
Route and service adjustments have been made to improve efficiency and effectiveness.