May 2018 Service Change Proposal and Public Hearing Notice
May 2018 Service Change Proposal and Public Hearing Notice
SUNLINE MAY 6TH, 2018 SERVICE CHANGE
PUBLIC NOTICE INFORMATION
FOR LINE 80 INDIO
SunLine's Line 80 route operates in a clockwise loop serving residents of the City of Indio. As part of SunLine's May 6, 2018 service change, SunLine is proposing to improve frequencies to Line 80 from 60-minutes to every 20-minutes weekdays only, using Low Carbon Transit Operations Program funds.
SunLine is also proposing to realign the Line 80 route to provide closer service to the Walmart Center on Monroe Street at Avenue 44, north of I-10 in Indio (see area in yellow below).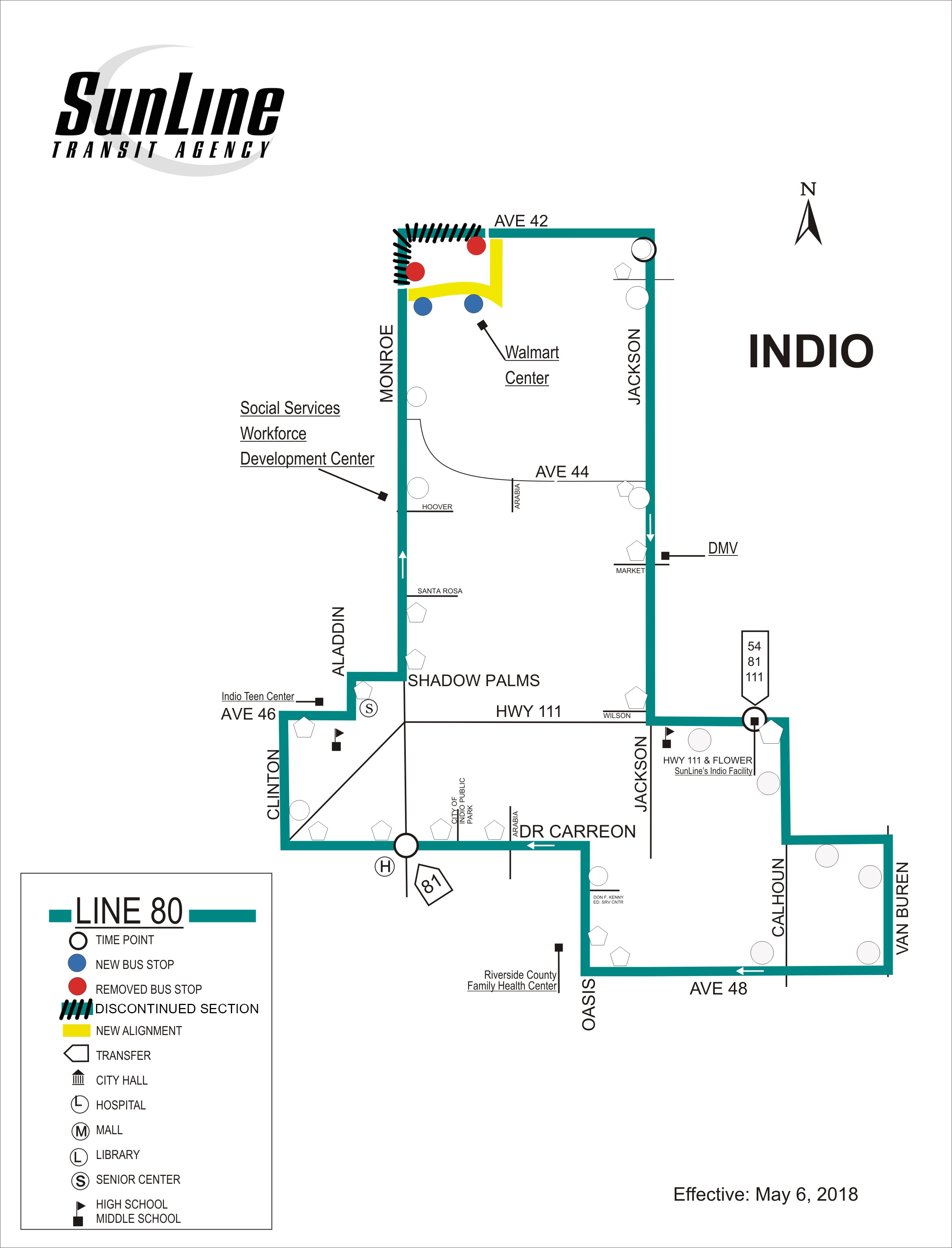 Here is the following public notice information for the purpose to receive public comments:
PUBLIC HEARING NOTICE
Notice is hereby given that SunLine Transit Agency (SunLine) will hold four (4) public hearings to provide interested persons the opportunity to comment on proposed frequency improvements to Line 80 for May 2018 service changes. 
Public hearings will be held on the following dates and locations:
Palm Desert Library at 73-300 Fred Waring Drive, Palm Desert, CA 92260:
·         Wednesday March 7, 2018 from 10am-11am and 6pm-7pm
Mizell Senior Center 480 S. Sunrise Way, Palm Springs, CA 92262:
·         Thursday, March 8, 2018 from 10am to 11am and 6pm to 7pm
Copies of the proposed service changes will be available at sunline.org by Monday, February 5th and may also be obtained by calling SunLine at 760-343-3451.
Persons who have questions or concerns regarding the proposed service changes are invited to provide input at the locations mentioned above. Comments may also be provided by telephone at 760-343-3451; fax at 760-343-0576; email at Rethink@sunline.org; or by mail to: 
SunLine Transit Agency
Attention: Planning Department
32-505 Harry Oliver Trail
Thousand Palms, CA 92276
Any questions regarding these hearings may be directed to Anita M. Petke, Transit Communications Service Specialist, 760-343-3456, ext. 1603. All comments must be received by Friday, March 9, 2018 by 5pm.
Fares & Passes
Route and service adjustments have been made to improve efficiency and effectiveness.
Service Alerts
Route and service adjustments have been made to improve efficiency and effectiveness.